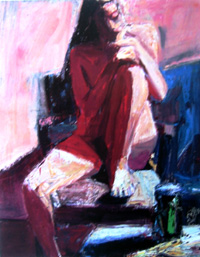 Terry St. John: Woman Reflecting, 60x48
After the game we went to a gallery reception for Terry St. John, an old acquaintance. In fact I went to Garfield Jr. High with him, though we weren't close friends at the time. He's painted for years, and I've always liked his work. We have a small landscape of his; it forms a sliding door at the entrance to our loft.

He's the perfect example of a man who's paid attention to all the new things storming around him — he was a curator at the Oakland Museum for years, and taught for years at Notre Dame, I think, in Belmont. And in all those years he's gone on painting his own way, often outdoors, observing nature, the cows, the mountains, the skies; and in the studio the nude and architecture.

And for forty years he's painted his way, focussing in tighter and tighter on his own way of doing it, and the paintings while consistent have got better and better, truer to the experience and richer in describing and considering it.

Alas we can't afford them any more. Should have bought some along the way. These new ones run up to $30,000. It's good to see him succeeding, but I wish… oh well: we have a very nice one.